v2track – Dual Satellite/Cellular tracking device
This is no ordinary tracking system. While traditional flight trackers are limited to using satellite networks, v2track revolutionized the industry by introducing a tracker that uses both satellite and cellular networks. What's the benefit? Lower cost, greater safety.
How? Our clever dual-mode hybrid system uses inexpensive cellular networks when available, switching to more expensive satellite networks, like Iridium, only when out of cellular range. Shifting between cellular and satellite is completely automatic. v2track saves you money—and you don't have to do a thing.
And lower costs allow you to track with greater precision. Because cellular networks cost less to use than satellite trackers, you can affordably increase the frequency of your updates. That enables you to monitor aircraft/vehicles with pinpoint accuracy—accuracy that, in an emergency, could save lives.
Why v2track?
Lower operating costs.  Hybrid technology costs less to use than satellite-only systems. It combines the lower cost of cellular with the superior coverage of satellite (e.g., Iridium).
Superior safety.  Thanks to lower running costs, you can afford to increase accuracy. Changing your update rate from minutes to seconds will drastically reduce your search radius, allowing you to locate a plane or vehicle faster.
Advanced communication.  v2track not only tracks; it also functions as a sophisticated communication device, enabling advanced two-way messaging.
Less paperwork.  Reduce paperwork using digital manifests and EFB solutions that transmit data via the v2track system.
Proven track record.  v2track has effectively tracked planes, vehicles, and vessels around the world for over ten years. A proven performer.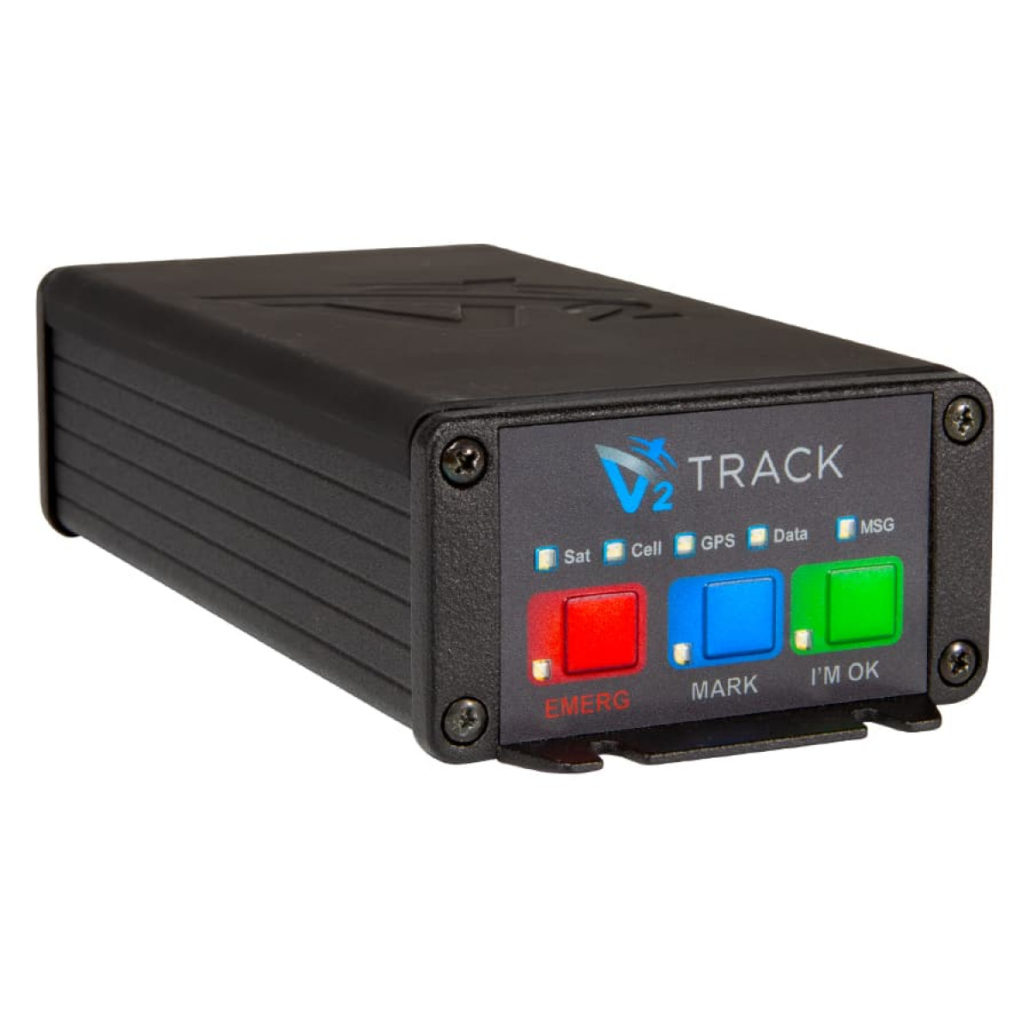 Advanced High Rate Tracking
By default, our devices are set at either 10 or 15 second updates while connected to a Cellular data network and 2 minutes while on Satellite.  These default update rates can be set/altered to suit your requirements and with some customisation we can accommodate burst modes down to 1 – 5 seconds for specialised applications.
v2track trackers use the "Store and Forward" architecture when operating outside cellular coverage to store high detailed cellular tracking data for rapid uploading when the tracker next has a cellular connection.
Full event tracking
In addition to the regular scheduled position updates, v2track trackers also transmit additional details from on-board or external sensors.
For example with tracked aircraft, additional event positions are triggered when the system detects engine start/stop, take off/landing, significant heading changes, hovering/ground-contact, rotors-in-motion, water/Bambi discharge in addition to emergency events such as engine failure, generator failure, tail rotor failure, rapid descent and others linked to the internal gyro and accelerometer.
Industry leading Messaging / EFB solution
As the industry moves towards "paperless cockpits" v2track is leading the way with an advanced two-way messaging platform v2Connect.
v2Connect allows advanced messaging capability including the transmission of EFB data, trip manifest data, checklist completion, flight plan information and you can even use it to request en-route weather reports + more!
With v2Connect a variety of information transmitted via v2track.  Custom electronic forms could include things like Expense Claims, an Engine Trend Monitoring form, scheduling changes, Airstrip reports – anything you can think of really!
We have two standard device options.
Portable device
This comes with the internal GPS & Iridium Antenna enabled.  No Installation required.  Just add a cellular simcard and connect to a power source. Locate the v2track tracker in a good position so it has a good view of the sky and you're good to go!

Fixed Installation device
This comes with the rear External Antenna connectors enabled.   There is also an option to use an extension front panel so that you can mount the main hardware out of the way with a lower profile button in a place more convenient to your installation. Additionally there is an Iridium Satellite Voice option as a time of purchase or return to base upgrade option.

We have a range of external antenna options for our 'non-portable' fixed devices.  These include Iridium/GPS/Cellular combo antenna for roof mounting on vehicles.  For aircraft we source TSO approved Iridium/GPS and separate Cellular antennas.

Aircraft:
External Inputs
A v2track device can take feeds from a variety of sensors and transmit this data back to our website.  Our devices have a range of analogue and digital input & outputs.
In permanently mounted fixed installations the tracker has the ability to receive and transmit a Serial Feed from other components, ie GPS and engine monitoring equipment.  This saves the hassle of manually having to download data after each trip/flight.
Examples of external sensors v2track users have connected include:
Garmin waypoint transmission
Shadin engine exceedances
Collective switch in helicopters
Squat Switch/Ground contact in aircraft
Engine running/failure
Oil pressure
Max continuous power exceedance
RPM warning light
Generator voltage
Monsoon/Bambi/hook release
To see specific features that utilise this technology refer to our Asset Specific Features page or to our Custom Solutions page.
RockAIR
RockAIR
Glare shield mounted, the RockAIR is a portable tracking device, capable of two-way messaging and emergency monitoring.
The RockAIR communicates via the Iridium Satellite network and local Cellular networks, this provides detailed tracking anywhere in the world.
With Bluetooth connectivity, RockCONNECT makes communication possible no matter where you are.
A back-up battery ensures that the latest position is transmitted back to base even after you have turned off the aircraft.
A standard feature is the quick release mounting clip for ease of portability, allowing the RockAIR to be easily removed.
Iridium Extreme 9575 Satellite Phone
Teltonika Vehicle Tracker